Pressure Washers
1075SSE 4GPM 3500PSI HONDA GX390 ENGINE 389 RPM DIRECT DRIVE HOT WATER
Stock #: H087
1075SSE 4GPM 3500PSI HONDA GX390 ENGINE 389 RPM DIRECT DRIVE HOT WATER
Stock #: H086
HOTSY 555HE The Hotsy 555HE features a high-efficiency downdraft burner delivering higher cleaning performance and lower operating costs. The stainless steel coil cover provides extra durability against the elements and rugged operating conditions. Auto-Start/Stop is a standard feature and offers increased efficiency in low voltage situations. The Hotsy triplex, direct drive, positive-displacement CERMAMIC PLUNGER pump carries a 7-year warranty and a 5-year warranty on the heating coil. The Hotsy 555HE is ETL-certified to UL-1776 safety standards. ...
Stock #: H081
2018 Hotsy Fuel Oil Heated & Electric Powered 500 Series The 500 Series delivers rugged, yet affordable, cleaning power for a broad range of applications, from agriculture to building maintenance. The sporty 555SS, with its stainless steel coil skin, is our most popular entry level hot water model---compact, evenly balanced, easy to maneuver, and engineered with the operator in mind. As with the entire Hotsy line, all models in the 500 series are ETL safety certified to UL-1776, with Hotsy pumps backed by a 7-year limited warranty....
Stock #: H012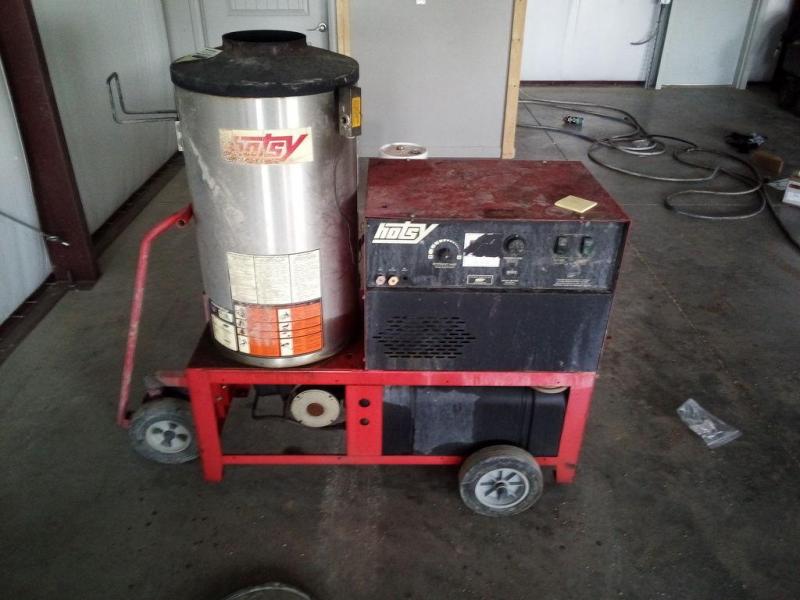 2008 Hotsy 980SS
Stock #: H023
2018 Hotsy Fuel Oil Heated & Gasoline Powered Gas Engine, Belt Drive The Belt-Drive Gas Engine Series Hot Water Pressure Washers are available in 9, 13 or 16 HP; two of the models are powered by Honda, while a third features a Robin Subaru, and a fourth a Vanguard engine....
Stock #: H005
2019 Power Jet PJ273GK Cold Water Gas 6.5 HP Kohler 2700 PSI 3 GPM
Stock #: H049
2019 Power Jet PJ03525-G Commercial Hot Water Oil Fired Electric 230V-1PH General Pump 3.5 GPM 2400 PSI
Stock #: H053
2019 Power Jet PJ0215E Commercial Hot Water Oil Fired Electric 120V-1PH 2 GPM 1500 PSI
Stock #: H051
2018 Hotsy Fuel Oil Heated & Electric Powered 700 Series & 895SS The 700 Series offers a nice balance of Hotsy ruggedness and cleaning performance, yet the affordability of an entry-level machine. In addition to the three direct-drive models, this series also offers a belt-drive model that cleans at 3.5 GPM and 3000 PSI. The multiple fuel and electrical options makes the 700 series ideal for meeting the needs of commercial customers. All models are ETL safety certified and feature the Hotsy pump with a 7-year warranty....
Stock #: H029
2020 Hotsy Electric Powered Hot Water Pressure Washers 500 Electric powered, portable pressure washer engineered with the user in mind. Stainless steel coil skin, 7-yr limited pump warranty and uses diesel #1 or #2 and kerosene to fire the burner. ETL certified to UL and CSA safety standards....
Stock #: H068
Get a Quote
Please enter your contact information and one of our representatives will get back to you with more information.
Click to Call
Please enter your name and phone number to get calling options.